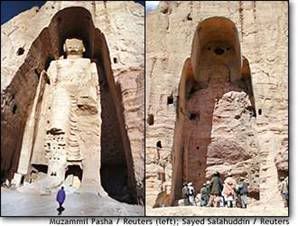 Muslim / mussalman's are in a rage over the Mohammed cartoons. These were the same people who were silent when Bamiyan Buddha was destroyed in Afghanistan.
Buddhist Scenario after the Bamiyan Buddha destruction.
Protests by Buddhists and international community - Yes
Killings, beheadings, arson, burning flags, bomb threats, rioting, murder threats by Buddhists - No
These
cartoons
may be totally outrageous. But if we cannot speak openly about Islamic militancy, how can we fight it together.